Elizabeth (Betsy) Kerrison
Younger sister of our Great Great Grandfather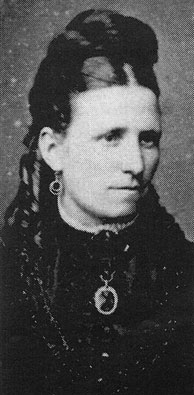 Betsy Kerrison was born in Launceston, Tasmania on 10 Aug 1838 and was married 10 Dec 1851 at St Matthais Windemere to a convict named James Goodson (born 11 July 1824). Betsy was aged only 13 and James was 26.
James Goodson had been transported for felony. He was charged with burglary in 1843 when he was 19. He with two others stole 4 loaves of bread, a child's dress, some cakes and two handkerchiefs and was transported for ten years. He sailed on the Blundell and arrrived at Norfolk Island on 6 July 1844. He was moved to Tasmania on 30 December 1846. Convict Number 18137, was granted his Ticket of Leave on 26 February 1850 and a Conditional pardon 3 February 1852, and Certificate of Freedom 9 January 1854.
James and Betsy migrated from Tasmania to New Zealand in 1873, arriving in Port Chalmers, Dunedin in September. They moved north to Oamaru. James died on 23 September 1878, only 14 days after their arrival, although his headstone says he died in 1874. Kay also said that Betsy made a home in Tyne St, Oamaru. She kept a milk cow on the free range land at Cape Wanbrow above the port. Around 1879 she moved the family to Waimate, north of Oamaru, and owned 35 acres at Deep Creek in 1882 (Register of Freeholders of NZ). She lived in a 2 bedroomed house, in part ownership with an Edward Campbell. On 3 July 1884 she remarried Richard (Taffy) Williams at the Waimate Registar Office. Betsy and Taffy returned to Australia in 1888 or so. She had been a midwife before her death on 11 April 1895 at Pearson St, Sale. [Source: Kay Bruce (nee Rawson), who also provided the photo]
James Goodson's Parents
[Source: Kay Bruce (nee Rawson), who cannot personally vouch for the accuracy of all of it]
James Goodson who married Betsy had a father who was also called James. James Senior was born around 1800 in Coggeshall, Essex. He married a Mary Ann (or Mary Anne) Burrells 31 August 1822 (that is accurate). By 1829 they had two children, James and Mary Ann. When young James was four the family was living in Great Coggeshall and received a Removal Order to the parish of Stisted. Some time after that, and another child, James senior was charged with stealing oats from his employer, one Richard Bridge, on two occasions. He got 3 months for each offence. On his way home he stole some more and was sentenced to 14 years transportation. He also had other previous convictions for poaching and vagrancy. He was 31 years old and transported aboard the Larkins to Van Diemen's Land 19 Oct 1831. His convict number was 756 (which seems too short to be correct). He was granted his ticket of leave 8 November 1839, conditional pardon 28 October 1841 and Certificate of freedom in 1845. (Ed. According to the Founders and Survivors web site, he had blue eyes, brown hair, was 5 feet 3½ inches tall, a Protestant who could not read or write, and his trade is shown as "Ploughman".)
Meanwile his wife Mary Ann (b. about 1803 in Chelmsford, Essex) was convicted of receiving stolen goods, namely stolen linen, and sentenced to 10 years transportation. She and a daughter, Mary Ann, along with a son, Richard, followed James Senior on the Mary Hay. (Ed. According to the Founders and Survivors web site, she was actually transported to Van Diemen's Land on the Tasmania in 1844. This web page describes her as having blue eyes, grey hair, was 4 feet 10¼ inches tall, a Protestant who could read, and her trade is shown as "Needle Woman". She had at least one prior conviction for "leaving her family".) By this time James junior had already been transported for felony.
Mary Ann died 4 May 1859 aged 59 at East Tamar. James senior remarried 28 November 1860 to Elizabeth Collyer at St Matthias, Windermere, a church he helped build. Betsy's father Stephen had also helped to build this church. They had a daughter, Elizabeth, born 11 November 1861, plus 5 others, Lucy, Sarah, Mary, William and Mervyn. James Senior died aged 87 and is buried with Mary Ann at St Matthias.
We have James Goodson junior down as born 11 July 1824. Neither James could read or write. Kay Bruce understands his accent was fairly thick, but James junior was much better spoken and told the judge at his trial "I hope you will sit there till I come back" before he was dragged from the dock. The photo at right is believed to be of James junior, but Kay has had it for about 30 years and cannot remember where she got it.
11 Children
Mary Ann Goodson 26 Jun 1853 - 25 Nov 1909, mar 26 Mar 1879 to Sampson Carlyon in New Zealand.
James Stephen Goodson 27 Apr 1855 mar at Launceston to Mary Jane Aymers
Betsy Goodson 6 May 1857 mar ? Buzan
Henry Francis Goodson 9 May 1859 mar in New Zealand and moved to Australia
Cornelius Goodson 3 Aug 1861 mar in Ireland
Emma Goodson (19 Jun 1863 - 24 Oct 1946) died in Oamaru aged 81, wed William Rusbatch (b. 19 August 1860, Forest of Dean, Gloucestershire, England, d. 1 June 1894, Oamaru, NZ) in Oamaru on the 6 Aug 1884, with 4 children.
Eliza Goodson 21 Jul 1865 wed 11 January 1887 to George William Rawson (born Lyttelton, New Zealand, son of William and Elizabeth Rawson) at the home of William Rusbatch, Ouse St Oamaru, North Otago, New Zealand. They lived in Reidston just south of Oamaru. He worked as a stone mason at the Teschmakers limesone Quarry. He was killed in an accident at the quarry in 1904 leaving Eliza to raise 9 children of their own plus 1 foster boy. See photos below.
William Kirkwood Goodson 3 Mar 1867 mar Elizabeth Walker Allen
Susan Goodson 3 Nov 1868 mar James Wilde
Solomon Goodson 4 Oct 1872 mar sister of William Rawson
Many of the Goodson children became "Bretheren" and some of them became missionaries in places like Uruguay and Bolivia. [Source: "Kerrisons in Tasmania 1835 - 1985" by Mandi Ann Haynes]

Eliza Rawson nee Goodson b. 1865
She was a midwife like her mother.


Eliza with her grandson William Rawson at Reidston, New Zealand.
Willy was born deaf and died aged 12.


Eliza and George's 3rd child, Alfred Rawson, 1918.
This is Kay Bruce's grandfather.
Source: Victorian Pioneers web site, "Kerrisons in Tasmania 1835 - 1985" by Mandi Ann Haynes, and Eliza Goodson's great grand daughter, Kay Bruce (nee Rawson) from Christchurch New Zealand, 2012. All photos on this page were kindly provided by Kay.
---