Edward Charles Rogers (1881-1931) and Alice Elizabeth Cain (1888-1962)
Our Great Grandparents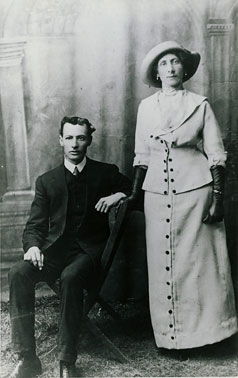 Edward Charles Rogers was born on 30 May 1881 at Bathurst, the fourth child and son of James Edward Rogers and Mary Teresa Neil Hogarth. As far as is known, Edward spent his early life in Bathurst. It appears that at school at St. Stanislaus College he was good at "elocution" and matriculated with 2nd class honours in 18941. In his senior class in High School he received a 3rd prize for book-keeping and geography2.
Alice Elizabeth Cain was born on 2 February 1888 at South Melbourne, the first child of William Patrick Cain and Alice Corbett. In 1896, when Alice was 8 years of age, her family relocated to Fremantle, Western Australia, where they lived until 1898 after which they moved to Cottesloe.
By 1908, Edward Rogers was also living in Fremantle. There is an interesting report from The West Australian newspaper in 1905 that may indicate how and when Edward came to be there:
…Kanowna Stowaways – George Williams, George Bell, Robert Anthony, Robert Byrne, Charles Anderson, Thomas Kelly, and Edward Rogers were charged with having stowed away at Adelaide on the steamer Kanowna. They were each sentenced to one week's imprisonment.3
On 14 April 1908 Edward and Alice married in Fremantle; he was just shy of 27 and she had just turned 20. The marriage was precipitated by a pregnancy that resulted in the birth of our grandfather. Their wedding certificate says that Edward was a 26 year old hairdresser whose usual address was Hampton Road Fremantle, and Alice was a 20 year old cashier living at Mason Street Cottesloe.
The portrait above was taken on their wedding day in 1908.
They had five children together:
Edward James (our maternal grandfather - 1908-1994)
Walter George (b. Narromine NSW 1914, d. Ulverstone Tasmania 24 January 1990) – known as 'Wal' but also known as 'Joe' in later life. His funeral notices list him as 'Rogers, Walter George (Joe)'. His middle name also appears as 'St. George' on some documents. He married Martha Hanna Towers at Marrickville in 1934 and they had one son, Colin James (b. 21/12/1935). He was known as 'Young Col' to distinguish him from his uncle Colin (b.1921 - see below). Walter enlisted in the Army in Brisbane during World War II, but it appears that while Walter was away in the army Martha became involved with a Robert Lea (also spelled Lee), who was mentioned in the 1943-44 divorce proceedings. Walter was discharged from the army in October 1945. After the divorce Colin James was raised by his grandmother, Alice. Walter George remarried to Elsie Thelma (maiden name unknown) who died at Ulverstone Tasmania on 6 May 1988.
Phyllis (Born in Narromine NSW on 23/1/1916 but survived only 2½ hrs due to premature birth. Buried RC Cemetery in Narromine).
William Alexander (1919-2005) – known as 'Bill'. He married Ada Maud McEwen (1918-1987) at Concord New South Wales in 1949. They had two children, Pamela May (b.1953) and Kevin James (b.1956). William enlisted in the Army at Paddington during World War II and fought in the South Pacific.
Colin Patrick (b.1921) – known as 'Col'. He married Kathleen Emily Costello at Ashfield New South Wales in 1952. They had three children, John Edward (b.1956), Kay Lynette (b.1958) and Susan Margaret (b.1960). Colin enlisted in the Army at Marrickville during World War II. Colin was Army no. NX 152364. He was a wireless operator and served in New Guinea.
In 1910 Edward and Elizabeth were living at Forrest Street Cottesloe. By the time Walter was born in 1914, however, the family had moved back east and was living in or around Narromine, New South Wales, just west of Dubbo. William was born at Lithgow, but when Colin was born in 1921 the birth was registered at Five Dock in Sydney's inner west. In 1930 the family was living at 39 Grove Street Marrickville.
Edward's occupation from as early as 1910 was given as "hairdresser". He is believed to have had a barber shop in Garfield Street, Five Dock at its intersection with Great North Road.
It is not known what Alice's occupation had been prior to marrying Edward. The electoral rolls only ever showed her occupation as "married" or "home duties".
Edward died aged 50 in 1931, probably at a hospital in Randwick, where the death was registered.
Alice remained living at 39 Grove Street Marrickville for a while after Edward's death. In 1934, however, she married William Frank Stock, who must have been a neighbour since the couple were shown in the electoral roll for 1936 as living at 10 Grove Street Marrickville, William having "no occupation". By 1937 the marriage seems to have been over, with Alice remaining at Grove Street and William living in Stanmore Road Petersham. Possibly the couple remained formally married until 1940 when William Stock died. No divorce record has been found. Alice continued to be known as Alice Stock until at least 1943, but by 1949 she had reverted to Alice Rogers. There is a family story related by our mother Joan Dwyer (nee Rogers) that a young relative by marriage once addressed her as "Mrs. Stock" only to be severely corrected by Alice, suggesting that her brief time with William Stock was not a happy one.
By 1949 Alice was living 189A Wardell Road Dulwich Hill, where she seems to have remained until at least 1958. She is remembered by some of her grandchildren as a stern grandmother, with social visits to her home being difficult. Joan Dwyer was also quite shocked when Alice visited her in hospital just after the birth of Joan's first child Anthony in 1956 (this was Alice's first great grand child), and gave Anthony a furry Koala that played music when wound up. As far as Joan knew, Alice had never given any children any presents before that. Anthony still has the Koala.
Alice died in 1962 aged 74, presumably at a care facility in Rydalmere New South Wales, where her death was registered. The only major health care facility at Rydalmere was the Rydalmere Psychiatric Centre at 171 Victoria Road, but it has not yet been confirmed whether Alice was a patient there or not.
---
1 Bathurst Free Press and Mining Journal, 7 December 1894
2 Bathurst Free Press and Mining Journal, 16 December 1897
3 The West Australian, Tuesday 14 March 1905, p.8