Edward Rogers and Thelma Phillips
Our Grandparents
Edward James (known as Ted) Rogers was born in Fremantle Western Australia on 30 September 1908.
He married Thelma Mary Phillips on 15 October 1932. The banner photo is from their wedding and shows (from L-R) Thelma's brother Tommy, her sister Bern, Ted, Thelma, and Thelma's father Charles Phillips. Thelma was born in Bombala NSW on 6 February 1906. We believe that Ted's father was a hairdresser with a shop in Garfield Street, Five Dock at its intersection with Great North Road. The Phillips household was at 54 Garfield Street so it is quite likely that this is how Ted and Thelma met.

Roy Beileiter and Ted at Palm Beach, 1936


Ted and Thelma's wedding, October 1932


L-R: Someone named Lou, Roy Beileiter, Bern, John (child at top, son of George Phillips), Bonnie (child at bottom, daughter of George Phillips), Ted & Arthur (aka Tommy) - Nielsen Park, 3 January 1938. The photos above were all provided by Roy's son Alan Beileiter.
They lived most of their married lives at 54 Garfield Street Five Dock, which they had bought from Thelma's siblings after their father Charles Phillips died. It was a 3 bedroom 1 bathroom house and during the 1940s there were 9 people living in it, something that we today would find intolerable. Ted and Thelma had the bedroom at the front with the verandah. Bern and Joan shared the other front bedroom until Joan married in 1956. Grandfather Charles Phillips shared the other very small bedroom with at least one of the four young boys - Kerry, Brian, Peter and Neil - until Charles died in 1947. There was another bedroom partitioned off in the enclosed back verandah area next to the kitchen.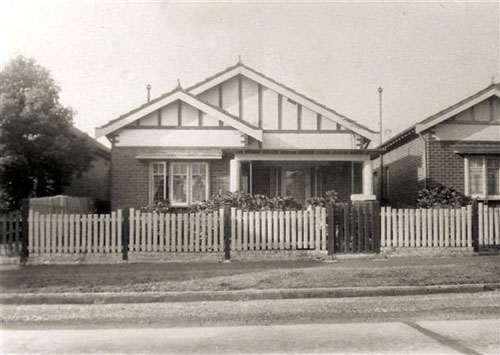 The House in Garfield Street Five Dock c. 1940s
Working Life
Ted was a wool classer and was also a wool judge at the Sydney Royal Easter Show. He was particularly noted for classing extra super fine wool which was mainly produced in Tasmania. He was away at the shearing sheds for 6-8 months a year at various intervals, so while he worked for the companies below, he was often not actually on the premises. His daughter (our mother) Joan recalls that he was generally away working in the country for 6 weeks at a time, returning for a weekend before going into the country for another 6 weeks.
According to the job references we have, he started as a junior on the wool classing floor at Wm. Haughton & Co in 1922 and worked there for most of the time up to 1953, by which time he was a senior wool classer. From 1934 to 1939 Ted worked for Vicars Ltd in Marrickville, coincidentally where our other grandmother Ethel Dwyer later worked! He also worked for Wool and General Storage as a supervising wool classer from 1953 to 1961, and then for Linklater & Bannister and its affiliate company, R H Allen and Co up to June 1970.
It appears that Ted had an accident at work at William Haughton and Company in 1951, in which he put his hand through a window pane and severely lacerated his left arm and wrist. This cut a nerve and caused him to have limited movement and feeling in some of the fingers on his left hand. (See the compensation claim). The claim indicates that this made him unfit for work as a wool classer, so his lawyer was claiming for the difference in pay between a clerk's wage and that of a wool classer (£1 and 10 shillings per week). However we have job references from one employer in 1970, saying he worked for them as a wool classer or sorter, so it looks like the handicap was not permanent.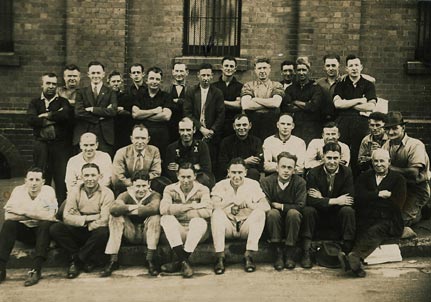 Ted and workmates at William Haughton and Co, July 1929.
According to the writing on the back, Ted is in the back row centre.
The War
Ted was exempt from military service because of his trade in the wool industry. However he was a Warden and his son Kerry remembers him going out at night patrolling the streets to make sure that blackout regulations were being followed. Whenever a siren went off he and the other wardens would meet at the fire station at the top of Garfield Street to receive their instructions.
There was an air raid shelter in the middle of the back yard of the Garfield Street residence. Kerry believes it was most likely built by the men in the family, who probably just came over one weekend and dug a hole and put a roof on it. It was filled in after the war.
Joan recalls coming home from school one day to find that Thelma had stuck gauze or fine lace onto the inside of all the windows in the house, in case a bomb shattered them, so the glass wouldn't fly over everything inside.
Kerry and Joan both remember that there was very little information available (to them at least) during the whole war period. They were completely unaware how severe the bombing of Darwin had been, and they did not know that a submarine had sunk the Kuttabul inside Sydney Harbour. They said that their father Ted used to read a newspaper called "The Truth" that contained the most salacious news of the day and that Ted used to hide it behind the couch, but they would sneak a read every now and then.
Kerry also recalls that the night the Japanese submarines entered Sydney Harbour the sirens sounded and Ted was out patrolling the streets. The rest of the household hid under the kitchen table saying the rosary. Grandfather (Charles Edmund) Phillips went to bed and stayed there for the rest of the night. He was not a Catholic (he was a Mason in fact) and was not going to sit under a table listening to people say the rosary.
Ted and Thelma were both excellent tennis players when young, and in later years were very good at lawn bowls.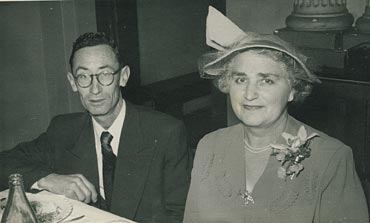 Ted and Thelma at son Kerry's wedding - 1955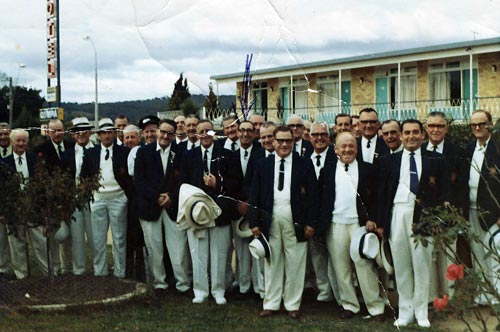 Five Dock Bowling Club, Ted in front row centre
Anthony Dwyer recalls that Ted told him he began learning how to drive in his younger years but had to swerve to miss a kangaroo and the car ended up in a bush, which frightened him so much he never drove again. His son Kerry confirms that driving cars was never one of his strengths. He smoked roll-your-own cigarettes for many years but gave up when he was in his 50s or early 60s.

Children of Edward and Thelma

Edward Kerrison (Kerry) born 23/10/1933

Joan Therese born 1935
Married William Charles (Bill) Dwyer on 4/2/1956
These were our parents.

Brian Anthony born 1938

Peter Graeme born 1942 died 1987

Neil Arthur born 1943

The kids all went to primary school at St. Joan of Arc Primary School in Dalhousie Street Haberfield, where they would go by tram, unaccompanied, every day. The boys later went to the De La Salle Brothers College in Bland Street Ashfield and Joan went to St. Vincent's Commercial College just over the road from the boys' school.


Clockwise from top left: Ted, Thelma, Kerry, Joan, Neil, Brian, Peter. 1951
Later Life
Ted and Thelma sold the house in Five Dock on 26 June 1992 and bought a unit at the Cardinal Freeman Village at Ashfield. Later in 1992 Ted had a stroke and spent time in Canterbury Hospital where he made good progress, but another stroke put him in a nursing home in Hurlstone Park. This was found to be very unsatisfactory and Kerry had him moved to St. Mary's Villa at Concord, where Auntie Bern (Thelma's sister) had spent her final years. Ted died of another stroke in St. Mary's Villa on 13 June 1994 aged 85.

Ted and Thelma at the unit in Cardinal Freeman Village, about 1992, prior to Ted's stroke
Thelma had a stroke 3 months after Ted and moved to St. Joseph's Villa in Auburn until she died from 'old age' in Sydney on 4 April 2002, aged 96.
Much of the anecdotal material on this page was provided by Kerry Rogers and our mother Joan Dwyer. Note: the 'Next page' link below goes to the Dwyers' home page because that is in fact Generation 6 from our point of view.