Turnbull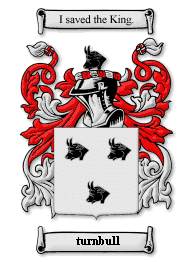 Turnbull is the maiden name of one of our maternal great-great-grandmothers, Mary Turnbull (1838-1916) who married George Phillips in 1869. The sequence of surnames in the four generations between us goes Turnbull-Phillips-Phillips-Rogers-Dwyer.
The surname Turnbull originated in Roxburghshire on the Borders of England and Scotland, particularly. The story that a man named William of Rule gained the name Turnbull in 1315 by saving King Robert Bruce from a bull that threatened to gore him is doubted as apocryphal, although William was granted lands by Robert the Bruce. It is fairly certain that the family was originally named Rule, however, deriving from the Rule valley between Hawick and Jedburgh. Rule was replaced by Turnbull in the 14th century.1
The Turnbulls were a notorious Border Reiver family, engaged in constant raids on both sides of the England-Scotland border from the 13th to the 17th centuries. Their seat was Bedrule Castle, about seven kilometers south west of Jedburgh.
---
1http://www.heartofhawick.co.uk/heritagehub/collections/source/familyname-turnbull.pdf