Stephen Kerrison (1829-1889) and Elizabeth Godfrey (1833-1920)
Our Great Great Grandparents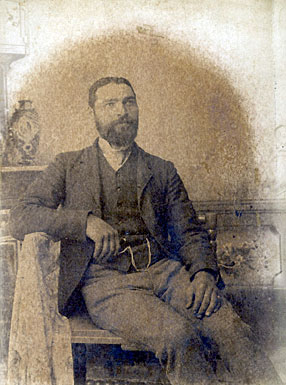 Stephen Kerrison was born in Wymondham around 1829, the second son and fourth child of Stephen Kerrison and Mary Goodings. He was baptised at Attleborough on 10 July 1832. Stephen lived his first six years in Wymondham, but in 1835 he came to Van Diemen's Land with his parents and seven siblings. Stephen left Van Diemen's Land on 18 June 1845 aboard the Shamrock headed for Sydney.1 From there, he and his older brother John took a train of horses to Bombala, where Stephen settled and remained for the rest of his life.
Elizabeth Godfrey was born in 1833 in County Carlow, Ireland, the daughter of Patrick Godfrey and Rose Byrne. Her early life was probably a very hard one. Her father died before 1840 leaving a wife and at least four daughters. Two of Elizabeth's sisters, Anne and Sarah, left Carlow in 1840 as assisted immigrants to New South Wales. After the Great Famine reached County Carlow in 1846, the situation for the Godfreys would have become even more difficult.
Between 1842 and 1844 a workhouse for the poor was constructed a kilometre or so south of the town of Carlow on the Kilkenny Road, and this workhouse received its first admissions in November 1844, prior to the Famine. Following the onset of the Famine, the Carlow workhouse quickly became overcrowded. Initially built for 800 persons, by the end of 1848 it was responsible for 1,744.2 Two of those were Elizabeth Godfrey and her sister, Mary. Their mother Rose Godfrey may also have been an inmate, or was in circumstances where she was unable to care for her daughters.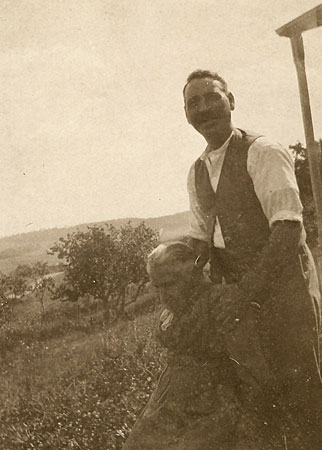 To relieve overcrowding in Irish workhouses, the British Government instituted a scheme in 1848 to ship young female workhouse inmates to the Colonies, particularly those that had a shortage of labour and an imbalance of the sexes. The Boards of Guardians for the relevant Poor Law Union identified suitable girls and from theses lists a Government Emigration Officer selected the emigrants. Both Elizabeth and Mary Godfrey were selected for this program in 1849 even though their mother Rose was still alive. The fact that they already had family in New South Wales may have been a contributing factor in their selection.
The Carlow Poor Law Union would have provided Mary, then aged 18, and Elizabeth, aged 16, with clothing for the voyage. The Poor Law Union was also obliged to arrange for their travel to Plymouth, where they would take ship for the Colonies. This probably meant a train or coach trip to Dublin in the company of one of the workhouse staff. In Dublin they would have joined girls from other workhouses and taken ship for Plymouth.3
Elizabeth and Mary Godfrey were given places on the Lismoyne, which sailed from Plymouth in August 1849 and arrived in Sydney on 29 November 1849. On arrival it seems that Elizabeth and Mary went to live with their sister Anne Griffin, then a married woman of about 27 years of age living in the Shoalhaven district4 (she died at Nowra in 1908). In this respect Elizabeth and Mary's initial experiences of the Colonies were doubtless far more positive than most "famine orphans" who found themselves alone in a strange place facing significant ant-Irish and anti-Catholic sentiment from colonists. The photo at right shows Elizabeth with her son Stephen, probably in the 1890s.
Stephen Kerrison and Elizabeth Godfrey married at Bombala on 27 January 1854 and they had thirteen children together:5
Stephen John (1855-1861) – died as a child "after a short and painful illness"6.
Elizabeth Jane (1856-1939) – she married John Lewis Greer in Bombala in 1882. Their children were Vaughan (b.1883), Mabel Rose (b.1884), Hilda (b.1886) Beatrice (b.1888), Albert (b.1891) and Mary (b.1895) Elizabeth died in Sydney in 1939.
Mary (1858-1903) – she married Jack Gleeson in 1882.
James George (1860-1947) – he married Janette Brownlie in 1882. Their children were: Harold (b.1885), Maud (b.1887) and Daisy (b.1890). He then married Louisa Veldt in 1899. Their children were: William (b.1900) and George(b.1902).
William Martin (b.1862) – died in infancy.
Henry Robert (1863-1935) – he married Mary Ann Kimber at Bombala in 1892. Their children were: George (b.1895), Henry (b.1897), Leonard (b.1901) and Caroline (b.1903). He died at Petersham, New South Wales in 1935.
Caroline (1865-1931) – she married John Quealy in at Sydney in 1910. The do not appear to have had any children. Caroline died at Five Dock, New South Wales in 1931.
Harriet Ann (our great grandmother - 1867-1928)
Julia (1870-1870) – died in infancy at Bombala.
Stephen Cornelius (1871-1944) – he married Florence Minehan in 1897. Their children were: Sarah Aileen (1897-1901),7 Robert (b.1900) and Arthur (b.1903). Stephen died at Bombala.
Julia (1874-1953) – she married George Toms in 1894. Their children were: Percy (b.1896), Ivy (b.1897), [unnamed] (b.1899), Henry (b.1901), Aileen (b.1905) and Marjory (b.1909).
Arthur Edgar (1876-1955) – he married Amy Peisley at Bombala in 1899. Their children were: Florence (b.1900), Pearl (b.1902), Amy (b.1905) and Aileen (b.1910).
Albert John (1878-1921) – he married Florence Peisley at Bombala in 1904. They do not appear to have had any children. Albert died at Redfern, New South Wales in 1921.
Stephen Kerrison seems to have led a quite colourful life in Bombala:
The only case worthy of notice is that of a man named Stephen Kerrison, who was charged before Mr. Baddeley with stealing some boards, the property of the Church Building Committee, in behalf of whom Mr H. Hogarth appeared to prosecute. The evidence was very conclusive, the defendant offered no defence, and elected to be tried summarily, in consequence of which (as no second magistrate came in) Mr Baddeley could sit no further, the defendant was therefore remanded for sentence, bail allowed – himself in £100, and two sureties of £50 each, to appear when a second magistrate can find time to attend.8
(Read full transcription, which also provides an interesting insight into life in Bombala at that time)
It seems that Stephen was sentenced to gaol time for this indiscretion, entering Darlinghurst Gaol in 1859. The goal entrance book describes him as 5 feet 10½ inches tall, "stout" make and "fresh" complexion, and with brown hair and blue eyes.
In December 1868 there is this bizarre report:
The following case has been heard before the Bombala Bench. The accused one Holmes was charged with having on the 18th of December last, at the YellowWaterhole, attempted to murder Stephen Kerrison, of Cranky's Plain. Prisoner pleaded not guilty, and was undefended. The prosecutor alleged that prisoner had endeavoured to deprive him of his existence by throwing a portion of a rail at him, flinging a huge stone at him, trying to throw a bucket of beef, which was boiling on the fire, over his body, and also by trying to stab him with a rusty pocket knife. The plaintiff minutely described the details of the occurrence; how violent his antagonist was; the number of times he threw him down, in self-defence, and kicked him for falling; how he gave him a sound horsewhipping ; how he had finally to flee from his desperate combatant, whose bosom was now laden with pebbles from a neighbouring brook, seize his gun, put a fresh cap on, and thus defend himself from the bloody attacks of his fierce and determined assailant. Several witnesses deposed to having heard a row on the night in question, and having seen both prisoner and plaintiff amusing themselves by kicking each other and occasionally being locked in an affectionate embrace, rolling on the mother earth, but could not swear that anything serious transpired. The upshot of the hubbub was owing to Holmes asking Kerrison for half-a-crown, which, the former alleged, plaintiff owed him. The debt was not acknowledged – hence the row. Their Worships considered the evidence insufficient to prove the charge, and consequently dismissed the case.9

And in 1880:
BOMBALA, Tuesday.
At the Police Court yesterday, the Bombala Bench sentenced Stephen Kerrison, farmer, of Crankey's Plains, to three months' imprisonment in Cooma Gaol for assaulting District Court Bailiff Gleeson when attempting to arrest him under a case warrant.10
As noted above, Stephen first came to Bombala with a train of horses, and seems to have remained a horse breeder. In 1857 he placed this advertisement:
£20 REWARD.— Stolen or Strayed: a brown HORSE, branded SK on near shoulder, slight, with T.W. on off shoulder, scarcely legible ; has an inter-mixture of grey hairs on the off hind foot and fetlock; colour, a dark brown or black; has had a sore back. Supposed to be stolen from Bibbenluke, Maneroo, on or about 18th July, with a bay brown gelding, known as Queer Boy, and who ran at the last Bombala Races. The above reward will be paid on the apprehension and conviction of the thief; if strayed – one pound on restoration of the horse. STEPHEN KERRISON, Bombala, 22nd September.11
In 1877:
English, Peck & Co. are instructed by Stephen Kerrison, Esq., of Maneroo, to sell by auction at noon THIS DAY, at their yards –
50 First-class horses
This really fine mob are all Mr Kerrison's own breeding, and includes several pairs broken in Carriage Horses, some weight carrying Hacks, and some well bred Colts.12
Stephen Kerrison died on 10 January 1889 aged 61 years. He was buried at Bombala Cemetery where an ornate marble headstone still stands above his grave. At the time of his death Stephen's estate was estimated to have been worth £784 10s. See details of his estate when he died [PDF - 696k].
Elizabeth Godfrey Kerrison died on 5 October 1920 and was buried next to her husband at Bombala Cemetery where a marble slab sits over her grave. The following obituary was published a week after her death:
Death of Mrs. Elizabeth Kerrison.
The death of Mrs. Elizabeth Kerrison, of Crankies Plains, Bombala, on Tuesday of last week, at the age of 87, removes one of the oldest and best-known pioneers of the district. Born at County Carlow, Ireland, in 1843, the deceased came to Sydney when a girl of 13, and for 74 years lived in Bombala. Though attaining such a ripe old age, the late Mrs. Kerrison had enjoyed excellent health up till 12 months ago, and since then, although ailing, she was able to get about, and apparently in her usual health. But about 10 weeks before her demise, she was compelled to take to her bed, and her large family of 10 children were summoned to her bedside. The Rev. Father John A. Roche administered the last Sacraments, and visited the deceased several times during her illness. She gradually sank, and her death was a very saintly and happy one. The deceased's husband predeceased her by 31 years. Ten children were born of the marriage, and all were present at the death-bed — Mrs. Elizabeth Jane Greer, Mrs. Mary Gleeson, Mrs. Julia Toms, Mrs. Caroline Quealey, and Mrs. Harry Phillips (daughters), Messrs. James George, Henry Robert, Stephen John, Albert and Arthur Kerrison (sons). Deceased also left 44 grandchildren and 26 great-grandchildren. The remains were brought to St. Mary's Church, Bombala, on the Wednesday, where a Solemn Requiem Mass was celebrated on Thursday morning by Rev. Father Roche, a very large number receiving Holy Communion. The late Mrs. Kerrison was a devout and practical Catholic, and will be missed from the district by her many old friends, for she was of such a cheerful and kindly disposition, always ready to lend a charitable hand to a friend or neighbour in need. The funeral, one of the largest seen in Bombala, took place on Thursday afternoon in the Catholic section of the Bombala Cemetery, the remains being laid to rest with those of deceased's husband. The Rev. Father Roche officiated. — R.I.P.13

Graves of Stephen and Elizabeth in Bombala Cemetery. Photos by Phillip Dwyer, March 2010.
---
1 Haynes, Mandi Ann (1985). Kerrisons in Tasmania 1835-1985 . p. 31.
2 http://www.askaboutireland.ie/reading-room/history-heritage/poor-law-union/carlow-poor-law-union-1/carlow-workhouse-and-the-/
3 McClaughlin, Trevor. & Genealogical Society of Victoria. (1991). Barefoot and pregnant? : Irish famine orphans in Australia : documents and register. Melbourne: The Genealogical Society of Victoria. p. 13.
4 McClaughlin, Trevor. & Genealogical Society of Victoria. (1991). ;p.76.
5 Another researcher has identified a fourteenth child, Florence (1873-1967), but I have found no record of her.
6 Goulburn Herald, Wednesday 20 February 1861, p.2.
7 Shown as Irene S. Kerrison on the birth register.
8 The Sydney Morning Herald, Monday 13 December 1858, p.3.
9 Empire, Monday 25 January 1869, p.3.
10 The Monaro Mercury, and Cooma and Bombala Advertiser, Wednesday 25 February 1880, p.3.
11 The Sydney Morning Herald, Thursday 1 October 1857, p.3.
12 Gippsland Times, Wednesday 23 May 1877, p.2.
13The Catholic Press, Thursday 14 October 1920, p.37.