Charles Edmund Phillips and Harriet Ann Kerrison
Our Great Grandparents
Charles was born at Young NSW on May 27, 1863. Note that his birth certificate actually spells his middle name Edmond, not Edmund, and his father's death certificate and his own marriage certificate both list him as Charles Edward! Kerry Rogers relates that his middle name was actually supposed to be Edward "but was incorrectly recorded by the Registrar as Edmond. Edmund was again a miss spell. It occurred a lot in those days due to lack of education and in some instances ability to write". In any event "Edmund" seems to be the accepted norm.
He married Harriet Ann Kerrison at Bombala NSW on May 3, 1893. Harriett was born on September 29, 1867 at Bombala, daughter of Stephen J Kerrison and Elizabeth J Godfrey. Charles is shown in the banner photo on the far right, at the wedding of his daughter Thelma on October 22, 1932.

L-R: Charles Phillips as a young man, c.1880s; Harriet and Charles in 1921, probably at their new house in Five Dock.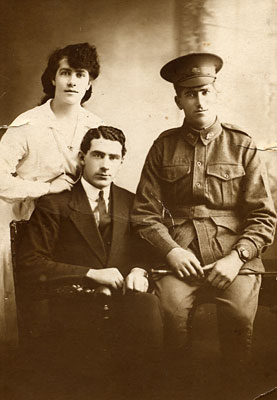 Left L-R: Bern, Joe, Wal in 1917. Right: Charles in Masonic garb. Date unknown.
The family lived at Maybe Street Bombala, which is now part of the Monaro Highway. They moved to Sydney to occupy 54 Garfield Street Five Dock on 24 November 1920. The house remained in the family until it was sold by Ted and Thelma Rogers on 26 June 1992. More about this, and a photo of the house, at Ted and Thelma Roger's page.
Bern and Joe had already moved to Sydney to work, before the rest of the family moved up in 1920. On the back of the photo of Bern, Joe and Wal above, taken in 1917, there is handwriting indicating that Bern and Joe lived at 78 City Road Sydney at that time. Joe worked at the Post Office and Bern worked as a secretary for the Managing Director of Mastercraft Chocolates for 45 years, until she retired at 65. The Mastercraft factory was in Surry Hills.
Bern and Joe used to travel back to Bombala on the Cobb & Co coaches during holidays. These would have been horse drawn coaches and the journey must have taken quite a while. Thelma and Tommy used to climb a large pine tree near their home in Bombala, to watch for the coach coming up the road.
Charles was a member of the Masonic lodge (see photo above), and his grandson Kerry Rogers remembers accompanying him to meetings on a number of occasions.

The Phillips clan. Back L-R: Harriet, Charles, Joel is the one between the men with hats, Bernice is far right. Middle row all unknown. Young boy cross legged at front is Arthur (known as Tommy), at right are Thelma and George. Date unknown, probably in Bombala. If so it would be pre 1920.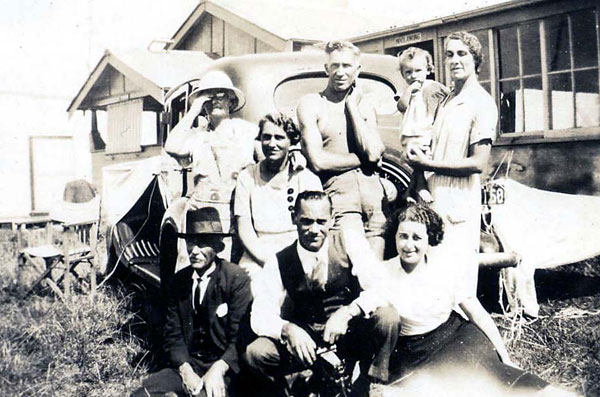 L-R at back: Auntie Ma (Wal's wife - real name is Edith), Thelma (lower than the others), Wal, Joan (the baby) being held by Bern;
At front: Charles, Arthur (known as Tommy), Auntie Claire (Arthur's first wife). About 1936. The car is most likely Wal's green Oldsmobile. He was the first in the family to own a car.
John Phillips (a son of George) relates that when they first moved to Five Dock the bottom end of Garfield Street was all mud flats or swamp, and Five Dock was quite an "outer" suburb of Sydney. He also relates that "Grandfather Charles worked as nightwatchman (or caretaker) at the Nestle factory in Abbotsford. During the war, he used to get a small ration of the very dark, very hard chocolate they used to issue to the troops, and would share it with the grandchildren. It was hard on the teeth but delicious."
John also relates that Charles had a cockatoo named "Talky" and that he was told "it used to walk along the Garfield Street fences and wait at the Police Station for Grandfather to come off night duty at Nestles. It would jump on his shoulder and ride home on him". There is a photo of Talky on Tommy's shoulder.
Kerry Rogers (a son of Thelma) recalls that he and his sister Joan used to watch for (their grandfather) Charles returning from the Five Dock pub on pension days. They would hang over the front fence to watch for him coming down the Garfield Street hill. As soon as they saw him they would run the 200-250 yards to meet him and receive the generous allowance of 1 penny.
Harriet died May 2, 1928. Charles died on March 13, 1947.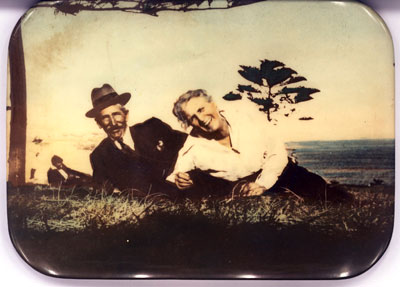 Charles and Harriet at Coogee Beach, probably after they moved to Sydney in 1920. Harriet died in 1928.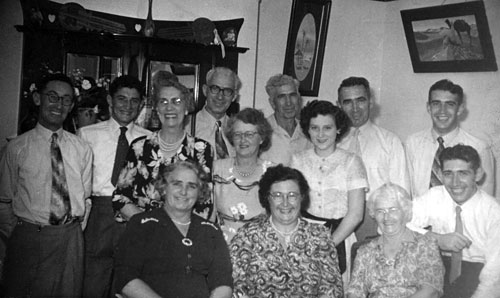 The Phillips family at George and Anne's 25th wedding anniversary, 1952.
Standing L-R: Ted and his son Kerry Rogers, Bern, Joe, Syb (Joe's 2nd wife, middle row),
Wal, Joan Rogers (middle row), George, Neville (George's and Anne's son)
Seated L-R: Thelma Rogers (nee Phillips), Anne (George's wife), Ma (Wal's wife),
John (leaning on Ma's shoulder - he is George's and Anne's son)
Anecdotal information on this page provided by Kerry Rogers and John Phillips. Photo captions provided by Joan Dwyer.